Côte d'Azur Party, 7-8 May 2010
I like French roads. The Autoroutes are usually traffic light and well populated with efficient, clean services serving good hot coffee from a machine or a tasty lunch.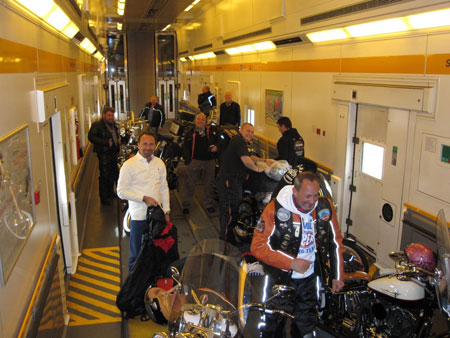 The N and D roads are also in a generally good state of repair, are well signposted and have some unbelievably straight bits where you can test your Screamin Eagles. At lunch time all the roads are empty as the locals sit down to dine' and on Sundays the lorries and their drivers have the day off. What joy!
For other adventures... read articles by C&F members Nicky Newstead & Nick Deal.
Visit YouTube for a video of the Chelsea & Fulham and Meridian ride out.
However, even French roads are not much fun when it's tipping down with rain and your custom built 'bobbed' rear fender is not doing much fending to speak of. There I was riding with the worlds finest water shoot aimed directly onto the back of my crash helmet, the cold water then running down my neck. It would have been impossible to design it just so. And so went day one and day two of my St Tropez adventure. Wet 'n' cold, but at least my bike looked cool...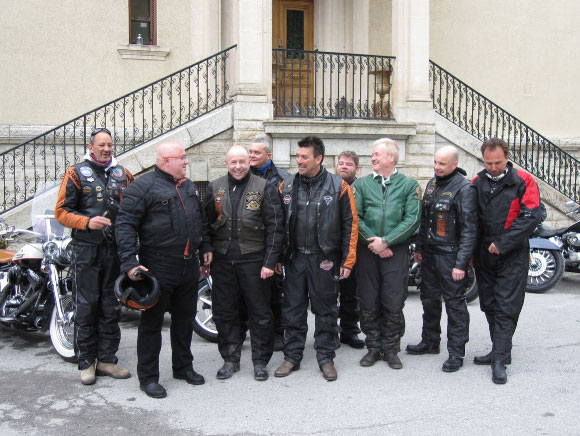 It all started nicely though with a group of 10 cheery souls (Oren Barrie, Paul Mercieca, John Warr, Adrian Austin, Nicholas Cowell, David Phillips, Ian Solley, Rob Warr and Mark Lenherr) downing a swift full English at Maidstone services. Moving through the tunnel and onto French soil the clouds started to thicken, as is often the case in the Pas de Calais. Soon Ian's home installed performance Air box started causing all sorts of grief - should have gone to Warr's - so we had to say goodbye while he headed for the nearest dealership to get it fixed. By the time we reached our first overnight in the beautiful town of Beaune some 450 wet and sodden miles later, our spirits had started to flag. Showered and refreshed we ate in a small bustling restaurant just off the town square. Afterwards, back at the excellent hotel Le Cep, our ride leader Oren ordered Cognacs all round and soon the wet weather experiences began to turn into good old road stories and the day didn't seem so bad after all.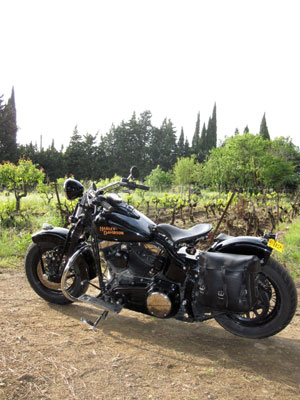 We woke of course to rain. Lots of it. Gary decided his custom was not best suited to the roads we had chosen for day 2 so he left us and rode straight down the autoroute to Antibes. Now 9 we turned left towards Grenoble and rode through plains then mountains. 'Amazing things to be seen' it said on the road side signs but we couldn't see any. We were riding through clouds. No views, just a wet crotch. What a sensible chap that Gary was. North of Gap on the Route Napoleon amidst thundering trucks and pouring rain Nicholas' huge exhaust end cap fell off. He didn't notice but Mark stopped to pick it up, brave man. It was very hot so he soon dropped it (threw it) into a nearby puddle to cool off. How we laughed. Eventually, and after Dave's slight detour, we got to the rather fine Villa Morelia in Jausiers near the Italian border. Dinner that night was an eight course extravaganza as the wine flowed and cheeks glowed. Paul was emotional but we soon snapped him out of it. Come the morning closer examination of our bar bill revealed the wine did indeed flow, but not of course freely. Oops. Thank God we avoided the Petrus. The bikes got a wash from the hotel's under powered Karver, which was better than nothing. Mr Hotel Morelia took a group picture and we then set off south towards what we hoped was better weather.
Thankfully we weren't disappointed as the sun came out and Oren led us on a great route through the lower Alps towards Digne les Bains. It was glorious to take the back roads and soon we all re-discovered why we do this biking thing. It's great fun! The views are great too and we appreciated the sunny and dry conditions more than ever. We were warming up and looking forward to our weekend. Ride order was relaxed and Mark went off to discover the handling limits on his Softail Deluxe while Rob and Adrian played tunes on their Vance and Hines as we wound our way through the echoing walls of the magnificent Gorge de Trevans west of Castellane.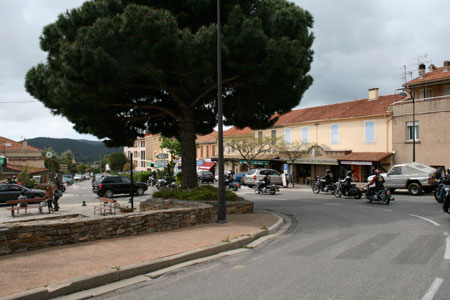 After lunch I led the ride as we dropped down passed the huge military camp to Draguinan and then further south into St Maxine and the glistening Gulf of St Tropez. We had arrived.
Meeting up with Chapter members in the port on Friday evening it was good to see so many familiar faces had also braved the elements to ride the 1,000 miles down to the Cote d'Azur for the European Harley Festival. Tales were told and bikes gawped at. St Trop was buzzing with Harley folk and their machines. Next day C&F and Meridian met up at our villa in Gassin for a coffee and croissant and then we were off as I led the 60 strong group on our 2 hour chapter ride out towards La Mole then up and over the Foret des Maures, passed the terraced cafes of Bormas le Mimosa descending the other side towards Lavandou and then back up along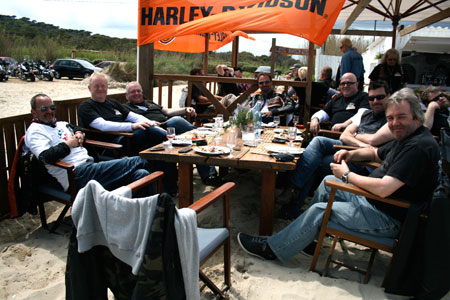 the coast towards Croix Valmer and finally our rides destination, Les Bronzes restaurant at Pampelonne beach, who served us with smiles and a fabulous spread - well done to everyone and Rockers well deserved. The 2 Bentis brothers, plaster casts and all, even showed up. Now minus their bikes after a coming together in Monaco they knew they couldn't miss the Chapter Party after riding all that way. The mood at the beach was certainly chilled and the sun shone on the righteous. Later that afternoon some dissolved back to hotels for some RnR while others went for a final gander at the bikes and boats in the harbour. St Tropez had worked it's biking magic once again. We will be back.
Thanks to all who helped with the events and ride out on Saturday including Colin Houliston, Paul Wiggins, Andrew & Sarah Papas, Dave Mann and Rob Warr for being such a great roving marshal.
Another adventure over. Now did I tell you about that rain?...
John Warr - C&F Chapter Director