Brighton 'Rocks'
15th July 2018
Biking is contagious, there are no ongoing clinical trials, there is no known treatments, there is no known cure. Once biking gets under your skin, that's it! Biking is an expression of self, a totally immersive experience, a fully committed lifestyle choice.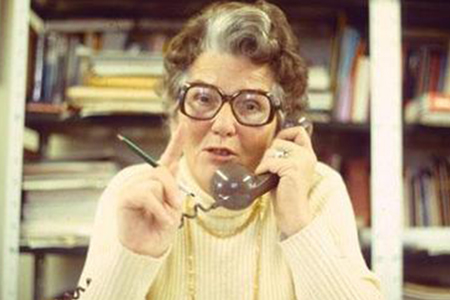 Music is the same, once music gets a hold of you, there is no going back. When the love of biking & the love of music collide, they combine into a heady concoction that's hard to resist.
In 50's Britain, the British Board of Film Censors had banned the 1953 movie, the 'Wild One' (Marlon Brando) as likely to incite 'juvenile delinquency'. Stylistic tribal lines became drawn between smart scooter-riding (of the minute) Mods, & leather jacketed, scruffy greasers or Rockers (the younger siblings of the early 60's ton up boys).
Summer 1964, as Mary Whitehouse starts to become vocal with her censorship activities, the youth of Britain went 'mad' (if you believe the newspapers, that is). Mods & Rockers took to their two wheels & descended on sleepy seaside resorts (famously depicted in the 1979 movie, Quadrophenia) their actions effectively feeding back into folklore & popular culture.
Are you a Mod or are you a Rocker? With a combination of sharp style, polished chrome, a sprinkling of rock & roll electric guitar & vintage leather, I would like to think that C&F H.O.G. is both.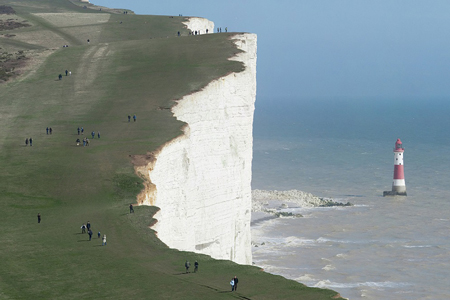 So, let's leave the 1950's fabricated divides & moral panic behind us, finish your Ace Café Tea, Grease back your hair or put on your Mary Quant dress, smart Saville row suite & green parka - join C&F H.O.G. to celebrate all things two (& three) wheeled for Brighton 'Rocks'.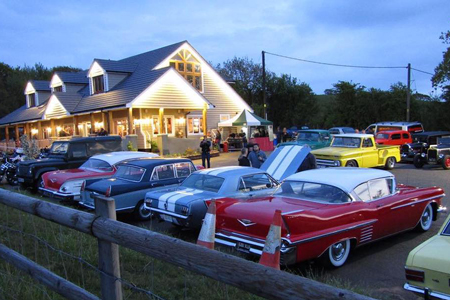 Route
Meet at 611 KR for 09:00 for a ride briefing at 09:30 sharp. We will travel Westwards out of London from 611 KR into the South Downs National Park.
Renowned for their great steaks (but not this time), the Surrey pub, The Onslow Arms in West Clandon will be our coffee stop.
We will continue to wind our way through sweeping A roads through the South Downs National Park. Those Sportsters wanting to brim their tanks, a suitable filling station will be provided en-route (est. 66 miles). Then we will take in the High Weald area of outstanding natural beauty (AONB) extending across counties of Surrey, West Sussex, East Sussex & Kent. On the way, reminiscent of Jimmy in the film Quadrophenia, we'll take in some fabulous views of Beachy Head (not too close though).
A warm welcome will be extended from Caroline & the Team as we arrive for Lunch at the appropriately named Custom Cafe at Bexhill where we can relax for lunch & sample some of their lovingly prepared home-made delights.
For those wanting to enjoy a spot of lunch elsewhere, Brighton is approx. 25 miles away (just pay special attention where you park) & if you see any Mods or Rockers give them a smile from C&F!
Your ride leader Jonathan Gooch - C&F Road Captain
Important information & Chapter requirements:
Chelsea & Fulham H.O.G. (C&F) operate a "No brief, no ride" policy and we will enforce this, so to avoid disappointment, please do not arrive late for the briefing
Allow plenty of time for signing in
Bring your C&F or Meridian Chapter membership card. This is a requirement to participate in ALL Chapter events
Bring your H.O.G. membership card. This is a requirement to participate in ALL Chapter ride outs
Ensure your bike is refuelled before departure
This is an official ride and qualifies towards the C&F riders patch and Precious Metal Rockers, more here
C&F H.O.G. ride outs - an explanation for new riders to the group.