Chapter Membership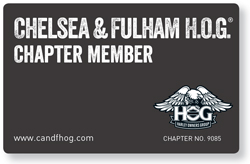 I started Chelsea & Fulham Harley Owners Group® back in the 1980's as a way to encourage my customers and friends to make the most of their Harleys. Over the years our Chapter members have covered literally millions of miles and taken part in a myriad of activities from relaxed Sunday ride outs to epic overseas touring adventures. As well as countless rides and tours here in the beautiful UK, C&F members have travelled far and wide on their bikes including the USA, Canada, Africa, Europe and the Middle & Far East.
The Chapter is free to join and entirely sponsored by Warr's Harley-Davidson® - though you will of course be required to be a current member of our parent organisation, H.O.G.
Every year myself and the Chapter's dedicated team of qualified Road Captains put together an exciting calendar of events.
Members can choose to take part as little or as much as they like regardless of rider ability, level of commitment or type of Harley. Our mantra was and still is;
'To Ride and have Fun!'
So join C&F H.O.G. today and get the most out of your Harley in the company of like minded enthusiasts.
John Warr - C&F Chapter Director
Member benefits;
Exclusive FREE membership card
Easy swipe entry / registration to Chapter ride outs and events
Proof of a H.O.G. membership and Chapter event eligibility
Record of achievements / Precious Metal Status
Access to members only Riders Page on Facebook
Priority notice of selected Chapter events
Member mailouts and priority event notifications
Right to purchase and wear Chapter insignia
Chapter member card
To apply for your Chapter member card, download* the enrolment form and release complete the fields, print out, sign and return to:
The Membership Officer
Chelsea & Fulham and Meridian H.O.G. Chapter (9085 & 6726)
c/o Warr's Harley-Davidson
611 King's Rd
London SW6 2EL.
Not getting C&F Chapter updates by email?
Join our Chapter mailing list and get the latest news and events straight to your inbox. Click here to subscribe.
Annual Charter & By-Laws
Click to read the Annual Charter for H.O.G. Chapters and Chelsea & Fulham Harley Owners Group Chapter By-Laws.
Lost Chapter member cards
Lost or damaged cards can be replaced. An administration fee of £20 applies. Please email admin611@warrs.com
*(Right-click (control-click on a Mac) the link and choose 'Save Link As...' to save the document to your computer)