"I ride, therefore I am."
14th April 2019
Time lapse radar on weather Apps is a great thing but can certainly lull you into a false sense of security. Having assured myself that we were in for a dry day, I was particularly perplexed that some riders had experienced hail riding into 611 KR from the South East (I guess it's April in the UK after all so shouldn't be too surprised). Thankfully, all was well & it turned out to be gloriously dry. The temperature was predicted to be the right side of 'crisp' too, but a heated jacket liner would be the wise way to go, just in case.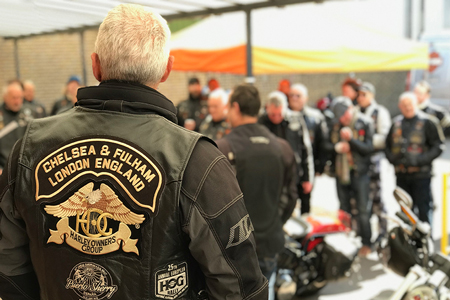 Two extremely reliable sources had already flagged that the XR Earth March 2019 was congregating around Ham Common/ Richmond Park & planning walk into (& attempt to "shut down") London at approximately the same time we were due to ride through. After checking, re-checking & checking again (did I mention that I had checked). Also, riding through Richmond Park on the way into 611 KR I was finally satisfied that all would be well. Therefore, decided to continue with the planned exit route through picturesque Richmond Park.
The gates closed promptly at 09:45. As customary, morning prayers were delivered, 2 new riders were welcomed & an additional safety briefing just for them performed (thanks to our resident Safety Officer, Nick). At 10:00 sharp we were on our way with Rob flashing a smile & giving us the thumbs up as we left.
As we progressed through Richmond Park no yellow vests/protestors could be seen - phew. There was only one vest visible, a Harley Davidson black & orange one being stylishly sported by Paul Wiggins as last man.
Progressing past Windsor Castle & into Windsor Great Park, the roads started to widen as we approached our scheduled coffee stop (the Belvedere Arms, Sunninghill). Interestingly, the Manager (Olivier) had used to be the Manager of the Hand & Flower (back in the day before it was the Hand & Flower) situated directly across the road from 611 KR, Warrs. He was still a biker & very accommodating to welcome C&F for the coffee stop. Thank you, Olivier - now that the temperature is on the rise, I'm sure we'll be back.
After coffee & some delicious French fancies (biscuits & cakes, no less) the group Photograph was completed. With the bridge over the stream to the pub still intact, we pressed onwards through Royal Ascot into the panoramic views, winding roads of the Chilterns, North Wessex Downs & beyond.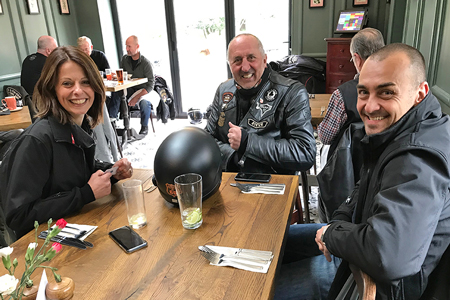 Towards the end of the ride the roads transformed, slightly reminiscent of travelling through rural France. There were stretches of sublime winding, deserted (50-60 mph) roads, punctuated by quaint villages (at 30 mph). Perhaps giving us the early hint of future International C&F rides to come this year! (Cascais, Portugal & Faaker See, Austria). This was combined with subtle reminders that were we well & truly out of London in the country. There were village ponds, ducks crossing triangle warning signs & colourful pheasants as they foraged in the fields by the roadside.
Thankfully, there was enough space at the Dundas Arms for those that were unable to pre-book to enjoy a leisurely Sunday lunch before the direct ride back into London.
"I ride, therefore I am." ride emphasised what we all already know, that it's all about the people & teamwork.
• Special thanks to John Warr & also, to Rob Warr for opening 611 KR with copious coffee & pastries.
• Thanks to the C&F H.O.G Road Captains (RCs) for their professional support, both on the Recce & also on the day itself (Col, Steve, Nick, Ray & Wiggs as last man).
• Also, special thanks to Andrew Eborn for riding ahead to carefully mark a particularly tricky junction on the way to Runnymede.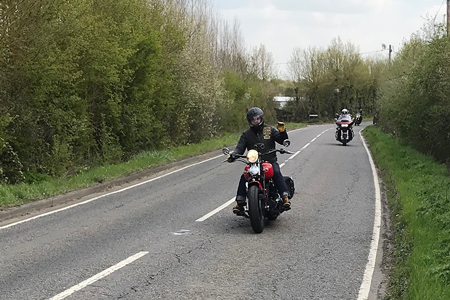 Thank you, C&F (and Meridian) H.O.G for working together to make this ride such a memorable, successful day. I am proud to call myself a C&F H.O.G member.
Jonathan Gooch - C&F Road Captain
Photographs courtesy of Steve Graham - C&F Photographer