Remembrance Ride 2019
10th November 2019
The first C&F Remembrance Ride took place on Sunday 14th November 2004. I had an Anniversary Dyna wide glide which suffered from a chronic lack of ground clearance and endemic carb icing. It also made a great deal of noise and used lots and lots of petrol. I was last man, and due to a timing error, we stopped to observe the 2-minute silence on the hard shoulder of the A3... maybe we wouldn't do that today! However that year's event was a great success overall and we have continued to observe Remembrance Sunday to this day, some 15 years later. For many years we visited a village war memorial in Elstead in Surrey followed by lunch at the Mill, a hospitable local hostelry; this venue was originally chosen simply because of its proximity to the home address of Scotty, a former Road Captain and Safety Officer, but as it worked so well we just kept doing it... is that tradition? From 2014 to 2018 we spent the centenary period of the First World War seeking to commemorate Britain's armed services at appropriate, even iconic, locations; in 2014 we went to Ypres in Belgium for the Army where we visited the largest war graves cemetery on the continent, a freezing and evocative Tyne Cot. In 2015 we visited the RAF memorial at Brookwood Cemetery in Surrey, the largest Commonwealth war grave cemetery in the world. In 2016 we went to a sole grave in a country churchyard so that a forgotten individual could be commemorated, and his story retold. 2017 saw a return to Elstead and in 2018 we went to one of the colossal naval memorials in Chatham, Kent to remember the members of the 'senior service' who had been lost at sea. By chance there is a Warr commemorated on that memorial, whose ship (a destroyer) was lost in an accident in the fog in late 1939, run down by a battleship near Scapa Flow. That sorry tale is told in 'Collision in the Night... The Sinking of HMS Duchess' by Richard M Jones (Lodge Books, Bridlington, 2018)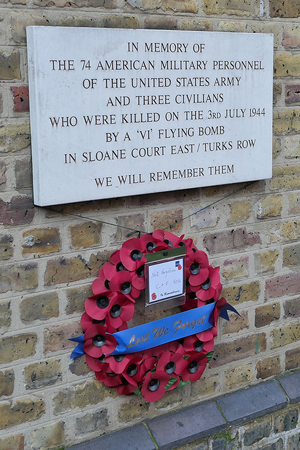 2019 being the 15th anniversary of this run offered an opportunity to look for something different. I'd been doing some research into WW2 bombing in London, and I found that one of the impact sites was just behind the Royal Hospital in Chelsea (of flower show and Chelsea Pensioners fame) and involved American service casualties as well as local residents; indeed it nearly involved US Air Force Captain Glen Miller of trombone and swing band fame, but he moved out the day before.
The V1 attacks commenced soon after the D-Day landings in June 1944 as part of a programme of 'revenge weapons'. This particular V1 bomb arrived at 7.47am on Monday 3rd July, landing in Sloane Court East near the junction with Turks Row, destroying many buildings and bomb killing 65 American servicemen and 9 local resident civilians, with many more being injured. The service personnel who became casualties were mostly from the 130th Chemical Processing Company, which was army-speak for a chemical warfare precautions (anti-gas) unit, but included some Women's Army Corps admin staff and some people from SHAEF. The bodies were either repatriated or buried in the American cemetery in Cambridge. After the war, a stone plaque was erected on the rebuilt wall near the impact site which seemed to be an appropriate place to leave a wreath.
I must say that the weather was an unexpected bonus, which no doubt helped us reach the total of 48 participants, up 10 on last year. According to our cunning plan we met at Warrs 611 Kings Road from 10am where the shop was opened and breakfast laid on by Dom Mulvaney from the parts department. The gates closed at 10.30am followed by a comprehensive briefing and two-minute silence at 11am. We departed at 11.08am and arrived at Turks Row, just behind the Royal Hospital Chelsea about 10 minutes later. Once the bikes were safely lined up and under the close supervision of Chapter secretary and photographer Steve Graham, we wandered up to Turks Row and clustered around the plaque. A passing Chelsea Pensioner was happy to photo-bomb the group shot. We looked at the surrounding buildings where the repaired sections were still apparent after all these years, told the story of the day and then secured the wreath using some environmentally friendly string.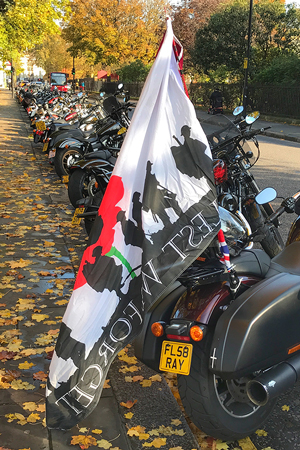 Our route out to Surrey was deceptively simple but was rather delayed by coming across another Remembrance event in Putney, which was not picked up on the recce rides. Fortunately Simon Peacock knew a way round the back doubles so after about a 10 minute delay we were on our way again. Once on the A3 it was straightforward all the way to the A245, then about another 20 minutes of country lanes saw us draw into the car park of the Stepping Stones pub at West Humble. We didn't all quite arrive together due to a missed drop off at the previous roundabout but the few missing riders simply went to Ryka's (which is almost across the road) and phoned up to see where we'd gone. At the pub I'd booked the function room out the back so we had plenty of space and we weren't going to bother anyone; it was a case of simply placing your food order at the counter, grabbing a suitable beverage and having a chat with your friends whilst waiting for your dinner. I had the roast beef and it was very good.
So; big thanks to Don for opening up, Steve Graham and Andrew Eborn for RC duties, Simon Peacock for route finding around Putney, Nigel Gaskin for junction marking, Tina and the staff at the Stepping Stones and all participants for being cheerful and present. Kudos to Conrad and Dan for (to the best of my knowledge) having attended every Remembrance Ride that I've organised. The continuing and valued support from RCs and members of the Chapter is much appreciated. You will be reassured to know that I'm already planning next year's event.
Next (and last 2019) event is Breakfast at Smiths of Smithfield, details on the C&F Homepage.
Michael Howers - C&F Road Captain