DVLA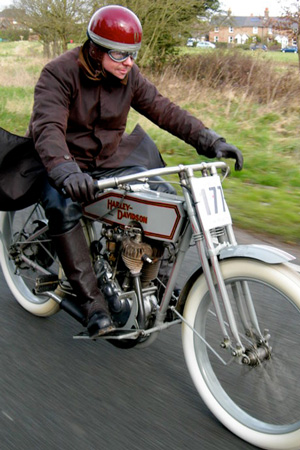 Harley-Davidson® Dating Letters
Approved by the DVLA Chelsea & Fulham H.O.G are able to issue an Age Certificate in the form of a letter confirming the period of manufacture of any Harley-Davidson vehicle for use by an owner to prove 'Historic Vehicle Classification' or to obtain an 'Age Related' registration mark in the U.K. The letter will then be passed, by the owner, to the DVLA for processing.
We are also part of the DVLA V765 scheme for reclaiming the registration mark of a vehicle that is not recorded on their systems.
For Harley-Davidsons manufactured after 1989 we can supply 'Statement of Configuration' certificates or 'European Certificates of Conformity' (CoC) where applicable.
To obtain a letter the owner MUST supply the following items;
1. A written request confirming the engine and chassis number (VIN) of the vehicle concerned (may be emailed).
2. Recent photographs of the complete vehicle clearly showing the VIN number in situ stamped onto the frame and engine (pre 1970 engine number only).
3. Applicants name and address, contact number and email address.
4. A fee of £55 plus vat (£66) applies. Cheques should be made payable to Warr's. Alternatively we can provide a PayPal money request. CoC's are £150 plus vat (£180).
All enquiries should be addressed to :- H-D Dating Letters, C/O Warr's Harley-Davidson, 611 Kings Rd, London SW6 2EL or via the C&F H.O.G. Contact page. Please note fees are non refundable.