Warr's 90th Celebration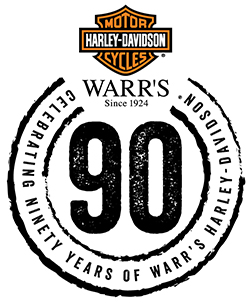 1 June 2014
Warr's 90th Celebration in pictures
The long and illustrious history of Warr's, Europe's oldest and most successful Harley-Davidson® dealer, is well known and documented elsewhere so I shan't be recapping it here.
Sunday 1st June was about celebration and rejoicing in the now. After all, nostalgia's not what it used to be. Few businesses survive 90 years, especially in an industry so affected by macro-economic features such as the various depressions, oil crises, credit crunches and belt-tightenings and loosenings as world politics has pendulumed to and fro. The availability and quality of Harleys has also varied considerably over the years, with no new machines at all in the 40s and the nadir of the later AMF period where quality was sacrificed totally for quantity. Throughout all these ups and downs, Warr's has soldiered on, amazingly under the uninterrupted leadership of three generations of the same family. I am sure that this unbroken continuity of family appealed directly to the Harley-Davidson Motor Company itself, where family remains central to the direction and standards of the Company. This has been reflected in several awards over the years.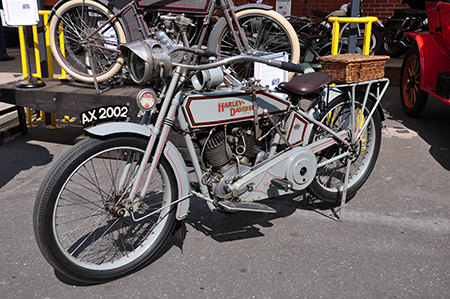 Although I had no part in it, I just know that the planning for the great day occupied many minds for long periods. The intention was both to reflect Warr's very wide range of activities within the motorcycling community, and to present wonderful examples of Harley-Davidson motorcycles built over the years. The tie up with local watering holes was a stroke of genius as it not only removed the issues of stray food and drink coming into direct contact with motorcycles dating back to 1914 but it also gave the whole day the feel of a H.O.G. Rally, where meeting old and new friends is central to the enjoyment of the event. The Hand & Flower, recently adopted as the monthly C&F social venue, surpassed itself, supplying food and drink from 10am until close of play. Each visitor must have had their own favourite machine to drool over, and somewhere within the exhibits or amongst the thousands of Harleys parked all around the dealership (Imperial Rd was full to the top at Chelsea Harbour!) I imagine that nearly everything Harley ever built was represented somewhere.
Along with most of the C&F and Meridian Chapter Officers, I had volunteered to act as a marshal for the day. Our role was twofold - firstly to assist with bike parking, keep fire exits clear etc, and secondly to be a source of information for visitors so that each one could get the most from their day. I am unaware that we had any first aid requirements or lost children, but if we had there was a plan!
I got to the dealership at 8.30am and was staggered by the number of people already waiting for it to open. Admittedly the weather was perfect, but this was going to be BUSY! The atmosphere was already electric, just the sight of the gathering bikes with chrome glinting in the sun and the sound of distant exhausts was raising goose bumps. Who needs St Tropez?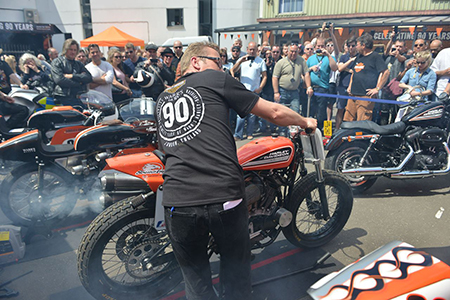 The layout of the site was straightforward and clever in equal measure. Each of the areas that Warr's and Harley excelled in was given its own space and equal billing - outside in the car park was the sound stage, Warr's Racing, Military, Police and Museum. Inside was Charlie Stockwell's Kings Road Customs, P&A and the showroom. Want to hear a real 1972 XR750TT road racer start up? Want to smell the Castrol R wafting from the exhaust of a genuine XR750 flat-tracker? Want your memory catapulted back to the thrill of being at the 1972 Transatlantic Match Races at Brands Hatch when Cal Rayborn, in open face Bell helmet and baggy black leathers went out and equalled Brit Ray Pickrell (Triumph) as top scorer? Yup, I was there...
For many people, highlight of the day was the arrival of Fred Warr. Having achieved his own unique veteran status, Fred was chauffeur driven to the back gate and transferred in style to his electric buggy. Communicating a là Stephen Hawking by means of an electronic box, Fred then set off into the crowd to treat everyone to a massive beaming smile and a wordless but heartfelt welcome. He must have been so proud of the family achievement and shared his joy with all. Rob Warr was run ragged trying to keep up with him in the crowd, and Fred only admitted defeat when the battery on his buggy ran out and he went off home for a well earned rest.
There were four live bands to enjoy throughout the day - Earth Prayer, Cairo Son, Tax the Heat and Curran. Each had merchandise and CDs available, and their sets were limited to a punchy 30 minutes so they had to concentrate on producing their best performance. Equally volume was kept sensible! Vibrant young bands performing original material is preferable in my opinion to any number of tribute acts.
I was staggered by the number of people who attended and there were bikes parked everywhere. All of the Warr's staff were on duty to answer questions and help the visitors, and the ever present John and Rob Warr were on hand to ensure everything ran smoothly.
VIP guests included Charley Boorman, Dr Fox and MotoGP & Harley racing legend Jeremy McWilliams, who jointly presented the racing bike start-up with JW, himself no mean short track racer in the 80s.
And of course there was a pin... did you get yours?
Michael Howers - C&F Road Captain, and a very proud Marshal on a fantastic day.
Over 5,000 bikes and riders attended! Reports next day on London media, radio etc said that "Central London had been taken over by 5,000 Harleys and their riders - out to celebrate Warr's 90th Anniversary - Europe's oldest and most successful Harley dealership, right here in London."
"On behalf of the team at Warr's I would like to say a massive thank you to the marshals who offered their time yesterday, and did a fantastic job. It wouldn't have been nearly as successful without you! Hope you all had a great day too."
Harriet - Warr's Staff
"It was staggering to witness the massive turnout for our 90th Anniversary Celebrations here at Kings Road on June 1st. All sorts of people of all ages came from far and wide, UK and abroad. People seem to appreciate our commitment, passion and loyalty for Harley-Davidson and yesterday's turnout demonstrated that. My fabulous staff ensured everyone was looked after. I didn't stop smiling all day. Looking forward to our 100th already!"
John Warr - Sponsoring Dealer
Photographs by: Chelsea & Fulham's Photographer Manuela De Castro, Steve Graham, John Warr and Paul Wiggins.