Florida State Rally
November 2012
LeBron James may not be the first person most people think of when planning a trip to the Florida State Rally, but he was mine. Having watched him play a pretty significant role in securing the NBA championship for the Miami Heat last year I was determined we could get to watch him play as part of our trip. And talking of people, as always this trip wasn't about the bike but about the people we met along the way...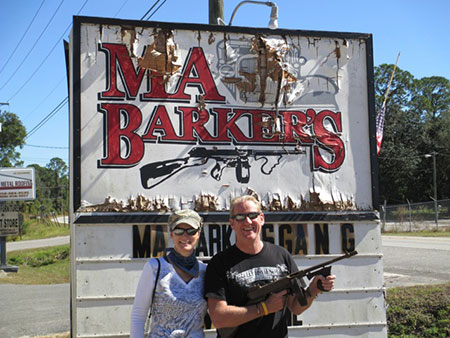 Having spent 15 years back and forth to our favourite place on earth and Florida's best kept secret destination (without a Micky or Minnie within commuting distance) we planned a couple of weeks there first for some R&R knowing how much partying lay ahead.
On our way to the East coast (bit of a clue that our 'favourite' place might be on a different coastline) to meet our Floridian riding buddies from Treasure Coast H-D we stopped off in Miami to watch The Heat convincingly beat the Boston Celtics. Oh we'll enough popcorn and culture for one holiday so let the Harley days begin...
In November, the 2012 Florida State Rally was held at Howey in the Hills. Hills are not something most of us typically associate with Florida but for those of you who haven't experienced them, there are a few if you look hard enough. There are also some of the most 'eclectic' people living in north Florida that you're likely to come across. As one of our Floridian BFFs tells us "there sure are a lot of people 'hiding' up there". The bars and restaurants are filled with them; we even witnessed a couple of our roughty toughty biker buddies almost heading for the hills (sorry couldn't resist) overhearing a conversation a couple of local females were having at a bar. With their colourful rendition of what they were going to be doing later (after we watched them down their three shots apiece), I've rarely seen the colour drain from the face of a man quicker.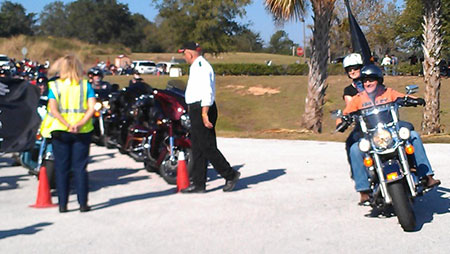 The countryside here takes on much more of the feel of the Carolinas, undulating fields, lush landscape and orange trees around every bend. Once you've had enough of orange trees there's plenty of waterways and lakes to remind you that those Gators are still about and a lot of the bars seem to have their own 'regular'.
Bug spray is a must if you're travelling to these parts. One of the most amusing sights was the rider who'd travelled a mere five miles back from dinner in the dark. Unfortunately for him he got no sympathy and his poor Electric Glide wasn't amused either. To park in the foyer of the hotel at midnight for better light in which to remove the thousands of bugs from his bike takes very thick skin and lots of elbow grease. Even the headline act stopped to ask the audience for spray so if you're the 'bugs in your teeth' kind of rider you know where to head for...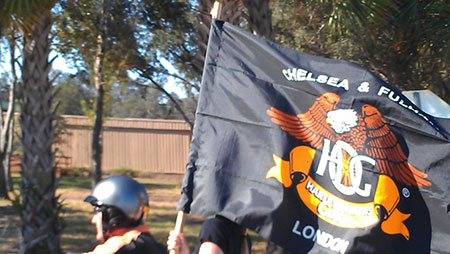 We proudly held the C&F flag aloft in the parade and know our US buddies appreciated us taking it across the pond.
The party lasted all weekend and the closing ceremony as always in the US brought a tear to the eye with its demonstration of patriotism and camaraderie. And yes being the only English there (as far as we know) we were spoilt rotten everywhere we went. We even had the pleasure of bumping into some people we'd ridden with to Billings in Montana a few years ago when we attended the US State Rally. What the Floridian riders miss out on by lack of European roads to experience they sure make up for by having the benefit of 365 riding days a year. The weather was picture perfect, the partying was full on and the laughter and friendship, undeniable.
As always, the philosophy seems simple enough whether you live in Florida, London or anywhere else - the love of like minded people, Harley, riding and having fun is a great way to meet and make lifelong friendships (Rick and Carol you know who you are) and for sure we'll be back.
Jan Wohlman - C&F Member