20th Annual European H.O.G. Rally. Biograd, Croatia
26-29 May 2011
The 2011 European H.O.G. rally was held in Biograd Croatia during the last weekend of May. The rally destination was further a field than it had been for a number of years, but that did not stop a considerable number of Chelsea and Fulham members from setting out.
Various groups set off from London using a variety of routes to make their way to Biograd. I set out on the Tuesday leaving Ade, Marcus and myself four days to get to there via France, Belgium, Luxembourg, Germany, Austria, Slovenia and finally Croatia. The weather and the roads were fantastic, and we soon realised that this was going to be one of those epic trips that you just don't want to end.
As we got closer to Croatia we began seeing more and more Harley's on the road, culminating with the coast road along the Adriatic looking like a Harley parade route. One long line of Harley's covering hundreds of miles threading its way down to the really destination. Only stopping for fuel, food and the occasional wait for some land mines to be cleared!
Biograd exceeded all my expectations. Harley had declared the whole town as an open rally site. The town took on a carnival atmosphere with Harley banners, stalls selling beer and food, 3 music stages and people partying all along the sea front. The stunning views of the Adriatic only adding to the feel good factor.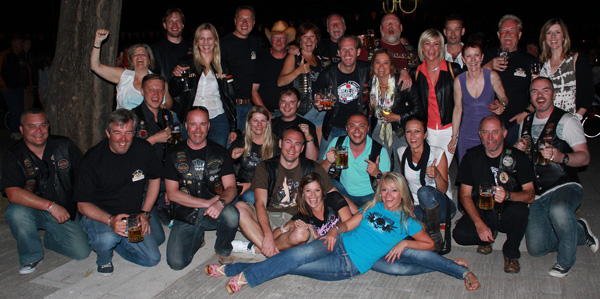 Saturday night was party night. Warr's had arranged a soiree for the 35 C&F members at the 'Riva Restaurant' on the sea front. The food kept coming, the drink kept flowing and many road stories were swapped. Oliver was showing pictures of his bike with an obscene amount of luggage on it (not all his I might add) which would have tested most peoples riding skills. More and more drink arrived and the evening slowly picked up pace. David & Tomas Smilgaitis were passing round something lethal in a bottle, and everyone was partaking. After the fireworks we moved on to the beach bar and carried on partying. People danced, climbed onto rafters, passed out on the beach (Marcus... man down!) and had a fantastic time. All the while with the official H.O.G. video team in hot pursuit (check out 3mins 58sec into the clip!). We were filmed and photographed (mainly due to the very pretty girls in our group) but also because; as we overheard some other H.O.G. groups saying... "nobody parties like Chelsea & Fulham".
The following days we all said our fond farewells and made our way back to Blighty. For me, Ade and Marcus this meant four more days of great riding through some of Europe's most stunning scenery.
8 Countries, 2,500 miles, great weather and so much fun with Chelsea and Fulham HOG. I can honestly say this was one of the best rallies I have ever been on, and would like to thank my riding buddies Ade & Marcus, and everyone from C&F who went and made it such a memorable rally.
Roll on Portugal...
Rob Warr - C&F Road Captain
Check out Oliver Achkar's ride to Croatia here.