'Le Jardin de France'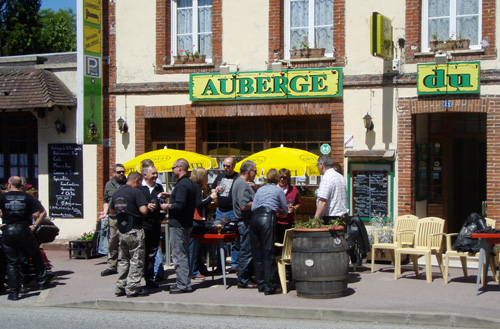 22nd-24rd May 2009
Laid Back Loir
The idea was a laid back weekend trip to the Loir Valley, a quiet rural area with miles of good empty roads to play on. Not too formal and not too regimented - just a relaxing weekend trip to the 'Jardin de France' and some good food.
Certain members of the chapter took the 'not too regimented' to heart and announced they would take their own route to France (some strange aversion to Ferries - preferring to tunnel under the channel and then flog 200 extra miles down the motorway). No problem said Beakey, I'll meet you somewhere en route, a rendezvous was duly selected and notified to all.
So the 'free style' run developed, 14 bikes and 19 riders to rendezvous at a roadside café in Normandy, five different channel crossings and four different routes - what chance this was going to work out? Well at the appointed hour (13.30hrs on Friday) we were all there, sipping beer in the afternoon sun. After a good three course lunch we headed south to Montoire in bright sunshine. It was a pleasant and uneventful ride through sleepy French villages - where do they all hide? We arrived at 6pm, parked bikes in the huge barn and were comfortably installed in the garden with beer flowing by 6.30 (except for Colin who, having inaugurated the extra 200 mile route, found it necessary to have a power nap!).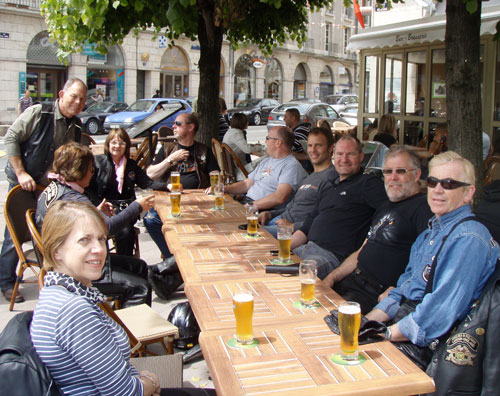 Friday evening saw us installed at the best restaurant in the valley for an excellent meal. Back at the hotel the bar was closed but thirsts were not slaked, Beakey did a quick recce to locate the only open bar in town and lead the hard core to yet more beers. Around midnight our Table Football champions got into an international match with the locals - France won by an embarrassing margin!
Saturday's weather forecast was iffy, some took a quick look at the local market, some decided to stay around the village and 15 riders headed off east then south to the Loire. In my rear view mirror the sky was dark - very dark - so we just kept riding, at a good 'progressive' pace. In the end you can't out run a thunder storm, it caught us beside the Loire at Beaugency - lightning, thunder but only a few minutes of rain, enough to make it a little slippy as we headed south of the river over quickly drying forest roads to a photo opportunity at Chambord, a 'fairy tale' Chateau.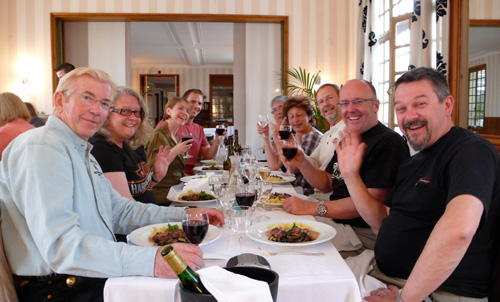 Lunch in Blois and the sun came out, ice cream in Amboise and another progressive ride north to Montoire for a four course meal at the hotel. The wine flowed and after dinner Nikki was suffering from 'dancer's twitch', we had an Ultra Glide - ergo we had a disco! Mick's glide was driven into the restaurant and the disco started. C&F are never short on initiative! It was definitely a first for the sleepy hotel Cheval Rouge!
Sunday morning breakfast was a bit of a struggle for some of us. The ride ended as it began, riders heading off on different routes. Eight of us headed for Caen via the motor museum at Le Mans (highly recommended). A glassy smooth crossing had us back to Portsmouth at 10 in the evening after a fabulous sunset over the Solent.
Many thanks to all the riders, it was laid back, we all did our own thing - and we all did our common thing - we rode our bikes on great roads in (mostly) good weather. We ate well and we drank adequately, we had fun, that was the objective!
Cap'n Beakey
Ride Leader: Richard Beake - C&F Road Captain