Senators Ride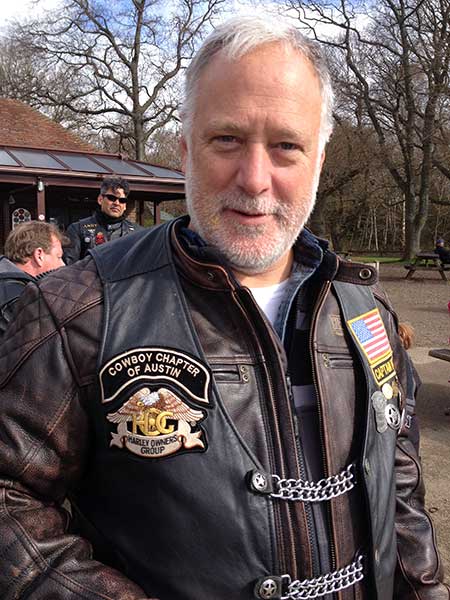 22/23 March 2014
It was the beginning of February when Mr Kirk Watson hailing from Texas contacted Warr's. He explained that whilst staying in London for a few weeks in March could we help him out with a little relaxation time vis a vis riding a Harley-Davidson motorcycle in the UK.
Kirk explained that he had a Heritage Softail back home in Austin, Texas but was apprehensive of London traffic and had never ridden on 'our' side of the road. Politicians that ride motorcycles certainly get a nudge up the popularity ladder according to my scale and here was a Texas State Senator who wanted to ride with us!
A few weeks later, before arriving in the UK I had mentioned to Kirk that our Assistant Director was heading out to Texas to see a previous C&F Assistant Director (Conor McAnally) who had relocated out to Texas some years before. It turned out that Kirk actually knew Conors' wife - such a small world.
Dates were decided and plans put into motion - I suppose with a logistics background that fits right up my street. The clock ticked round and Kirk arrived in London but he had to work too and so we waited patiently for the weekend to arrive. Kirk had hired the brand new Rushmore 2014 Street Glide rental from Warr's and was already at the dealership to sort the paperwork when Jane and I arrived at 8.30am on the Saturday morning. Rob Warr gave a tour of 611KR, he loved the museum motorcycles that were either on display or on rotation upstairs in more private areas of Europe's oldest H-D dealership.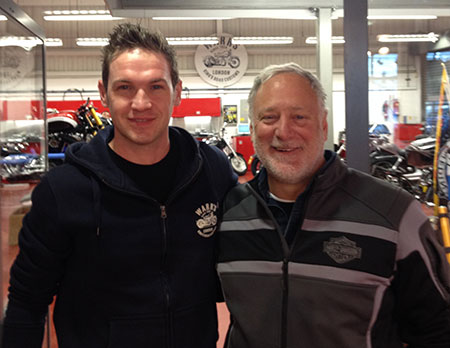 Later Kirk met Charlie Stockwell who he recognised as the young talent that had grown into a custom builder extraordinaire - of course, a picture of the two became obligatory.
The C&F riding crew started arriving and once assembled a briefing was given on riding in the UK - six riders set out for the south coast, a ride through the Surrey and West Sussex countryside of 90 miles outbound. First stop was Newlands Corner on the outskirts of Guildford, a bikers resting spot where we lined the Harleys up for a first picture. After a quick tea break we mounted up and headed towards Petworth, up and down Duncton Hill, past Goodwood race circuit onto the A27 and then approaching Chichester we hit traffic. Now that isn't unusual, however 'lane splitting' is an alien concept not allowed by law in Texas and so we sat whilst a gap wide enough for a bus appeared in front of us. Note to self I thought, we'll need to encourage some rebel behaviour here!
Anyway it wasn't too long before we reached the last roundabout and swooped left towards West Wittering, stopping at 'The Old House at Home', a pub near the sandy beach. The landlord invited Kirk to try his home made chilli sauce on his burger, challenge readily accepted and the verdict was 'it was hot'. So, a pretty good lunch later we moved towards Arundel castle for the English history sites and it turned out Kirk was a fair history buff too sometimes with better knowledge than the assembled motley crew!
The ride on the first day finished at around 5pm - with our senator guest staying nearby we had arranged dinner that evening along with Justin Webster and Zoe Clark both who had travelled up from Canterbury and were riding with us the next day. We ate, we drank, we were happy but where was our taxi come leaving time? Normally reliable the firm took an age and it was nearing midnight. Never mind, for tomorrow was another riding day.
Newlands Corner was the meeting place at 9.30am on the Sunday and a new C&F crew assembled for the day, Steve Graham had prepared a route out past Stonehenge and away we went. It was sunny in the morning, we took some nice country lanes out through Liss and stopped at Loomies (West Meon) another known biker haunt. Motorcycling, tea and chats all go hand in hand which is just as well as we got some more practice in! We moved out heading towards Winchester when it started to hail, it didn't last long, we arrived in Winchester and something like 50 miles left to our destination - then it started to hail/snow/rain call it what you will, quite heavily.
We pulled into a side road and some cover, here we discussed the merits or lack there-of where chaps are concerned. It was clear that Kirk was going to get very uncomfortable riding in this weather without proper waterproofs, rain/hail and small winding roads wasn't a normal riding situation in this case. We decided to eat locally and found a fine pub (The Golden Lion - Winchester) serving a very hearty roast before heading back towards our part of the world and finishing on the Hogs Back at the services via some wet and some dry roads and the sun was out again. A short while later we arrived home and literally minutes later the heavens opened - what timing!
I broke the news to Kirk about the overnight weather and we were due to return the Street Glide to Warr's as they opened on Monday morning. I warned our new friend about the -3 temperature expected which was great given the rain the previous day and of course Monday morning traffic on the A3 through Guildford, past the M25 and into London. 'We might have to filter' I say, 'ok, I'll try' says Kirk. Traffic was pretty bad locally and we moved carefully but Kirk was filtering, or lane splitting, whatever you call it - we arrived in the cold but also in bright sunshine. I was glad of my heated jacket though.
My thanks go to those who spent Saturday and/or Sunday on the road with us - Jane Deal, Les Channing, Steve Graham, Amier Abbas, Andrew Eborn and Justin Webster with Zoe Clark (pillion).
Nick Deal - C&F Safety Officer