Laid Back Loir
17th-21st July 2014
Friday the 18th July 2014, very early meeting at Folkestone for 7:36am depart. It is a beautiful sunny day; some of us have stayed at nearby hotels some have ridden to the meeting point getting soaked in the rain in London.
We are 15 of us and ready for the great adventure and our target is to reach Hotel de France at La Chartre sur le Loir by the evening.
After a short ride at the tunnel we set to French roads for our destination. The weather is much warmer than the UK and the sun is shining. 10 bikers and 5 pillions on the road storming through to the south but the weather is not helping at all. Wherever we stop everyone is trying to cool down and seek the shadow.
Finally we stop for a lunch break in a little random village. It is a beautiful restaurant with many locals having their lunch too. Everyone must have had at least a bottle of water each as the heat had dehydrated us a lot.
After a delicious lunch break we set back to the roads as we planning to reach to the hotel around 5pm.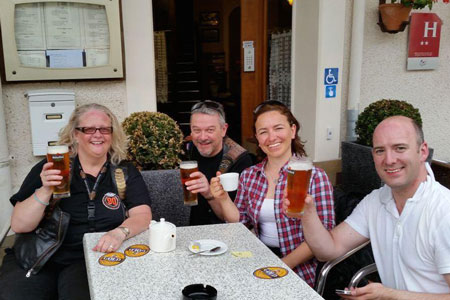 After getting through the major town of Rouen without incident we managed to loose second part of the group in Dreux. They are nowhere to be seen. In the end, the group divided into three as some of the riders wants to cool down in hot and sunny weather.
Who will be the first ones to arrive?
Andrew, Sarah, Peter and Emine are the winners in the end. Once the rest of the group arrives to the hotel they see them chilling outside and having victory drinks.
The hotel is pretty and chilled out. The staffs are very helpful and kind to us.
After relaxing for a couple of hours everyone meets for an amazing diner around a massive table and the room is only allocated to us.
Tasting great French food, cheese and wine... this must be heaven and everybody is happy.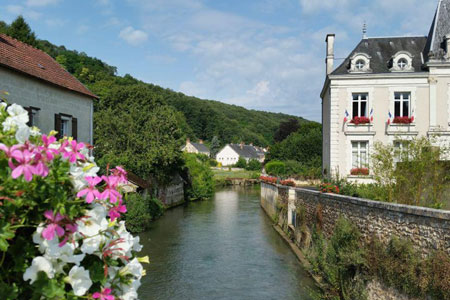 Next day we set off to the countryside to have a chillax ride around and explore a little bit more of Loire Valley.
We pass many sunflower fields on beautiful country roads. The place is heaven for bikers. Only one thing stopping us is Emine's Sportster's little petrol tank.
Having a coffee break at the town centre in Vendome, visiting beautiful Chateau de Chambord makes the day pass by. Everyone is having a great time in here.
On the 3rd day of our Loir adventure Peter, Sarah & Andrew Papas, Justin & Zoe, Colin & Karen left us to go back to the UK.
Nick & Jane, Richard & Sarah, Peter & Keeley and lastly Emine left to carry on to our little adventure.
Sunday the 20th we set off again to visit more places nearby. We visited the beautiful 'subterranean' village of Troo with a little church on the top of the hill, took photos of the amazing valley. There are interesting cave houses carved onto the mountain.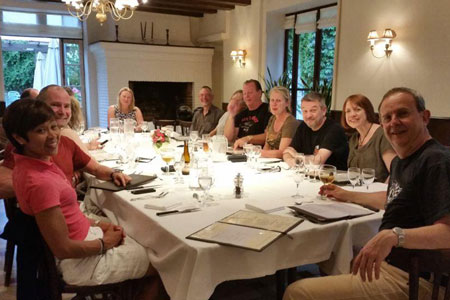 Then we arrive to Amboise where you can eat the best ice cream at Loire Valley. Amboise is a pretty city and the weather has been great. In the late afternoon we set back to the hotel as the rain coming soon.
On the way back we pass many villages, towns, chateau in spectacular Loir Valley.
Once the dusk settles we sit around table to have our last supper at our hotel. At this point only memories left from last three day's rides and adventures.
Monday the 21st; we set back to the UK in a bit of unstable weather. After a long day riding we reach to the Channel Tunnel for our last leg of journey in the UK.
Lessons from our trip to Loire Valley:
Do drink lots of water in a hot day when you riding. Dehydration might affect your concentration on the road
Try not to lose your mates on the road but still stick whoever you have got
Take your time to explore your surroundings
Be patient to stop every 100 miles for small tanked bikes
Get know your mates better as you have a great opportunity to make good friends
Participants of the Ride: Richard & Sarah Beake, Andrew & Sarah Papas, Colin Holliston & Karen Cadogan, Justin Webster & Coe Clark, Nick Stirling & Jane Warnick, Peter Blackmore & Keeley Grayson, Vince Barber, Peter Rogers, Emine San.
Thank you all joining to our Loire adventure and see you next year at another Laid-Back-Loir trip.
Emine San - C&F Member
Photographs are courtesy of Emine San.