Pre-Pioneer Run
10th March 2013
Arriving at Tattenham Corner (Epsom) at 9am I wasn't surprised at all to find the carpark deserted. It was early March, barely 3°c, grey and spitting with rain & sleet. What I was surprised to see was 27 bikes arrive in time for the 9:30am briefing. Most riders & pillions were dressed head to foot in H-D FXRG leather gear with heated jackets & gloves. The notable exception was Miguel, who'd passed his motorbike test three weeks prior to the ride, picking his bike up from Warr's the following day, and arrived in designer jeans, lightweight leather jacket and scarf – much kudos!
After the usual safety briefing, we set off to Brighton. The route followed the Pioneer Run which has been held by The Sunbeam Motor Cycle Club sunbeam-mcc.co.uk since 1930. Travelling south on the A217 we arrived in Reigate, where Road Captains, Nick, Mick and Andrew, who had gone ahead were marking three tricky junctions to ensure we all progressed through the town without deviation. Continuing down the A217 we rode past the loveliness that is Gatwick Airport and around Crawley.
Up to this point the roads were quite frankly dull without much to commend them or gaze upon to relive the dullness of the weather. However, at Pease Pottage where we joined the B2110 and then the A281, the roads became increasingly more interesting, emptier and the scenery heartening. Making good progress we soon arrived at our coffee stop – The Chalet Cafe just south of Cowfold.
After some warming sustenance and a quick briefing about our arrival in Brighton it was back on the iron. A couple of miles after Henfield we varied the traditional Pioneer Run route and headed up the Devil's Dyke Road and over the South Downs. This break with tradition (I presume bikes of pre-1915 vintage would struggle with the inclines) afforded us some lovely biking roads as well as excellent views over the Downs, Brighton and the Channel. I heard subsequently that there was some 'enthusiastic' riding behind me (you know who you are!) which I attribute to early season excitment at being back on their steeds.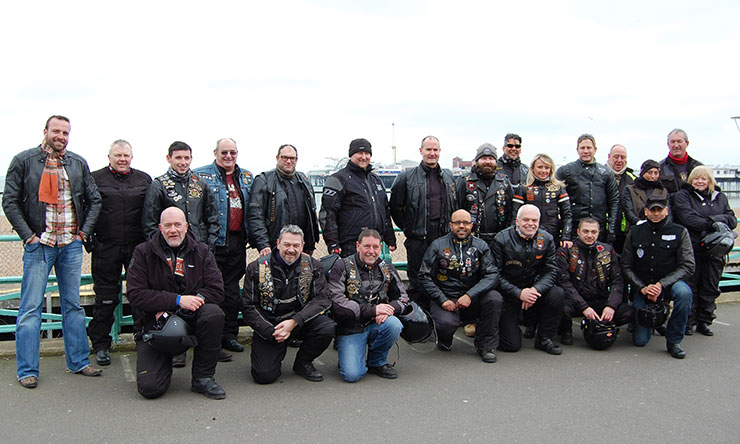 Through the burbs of Brighton we arrived on the King's Road that runs along the sea front. Turning left we headed to Madeira Dive, parked up and disappeared into the warmth of the Seagull Cafe, opposite the Brighton Wheel, for tea, medals and a well deserved bacon sandwich.
I would like to say a big thank you to all those that braved the elements and especially last man Michael Howers, whose assistance was invaluable. Also, honourable mentions too for Richard Beake, Les Channing, Nick Deal, Mick Newstead and Andrew Papas for performing road marshal duties.
Colin Houliston – C&F Assistant Director
Cool photographs taken by Kris Krolikowski.