Thames Crossings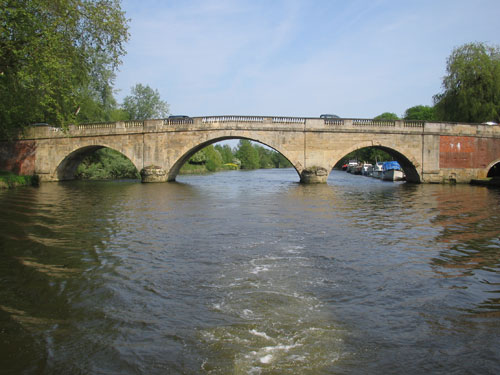 9th May
While our brothers and sisters were enjoying the delights of St. Tropez those less fortunate among us gathered at Warr's on a chilly morning with the threat of light rain. To my great surprise 26 bikes showed up at the start. With 60 riders in St. Tropez that meant we had over 80 bikes riding under the C&F banner in two countries.
We set off heading west on the M4 for a varied ride covering motorways, trunk roads and some rather gravely country lanes, snaking our way up the Thames and crossing some of the less known bridges. With crossings in Marlow, Henley, Sonning, and Goring we were never more than a few miles from the Thames enjoying great scenery, a spectacular 'bluebell wood' just outside Henley and fortunately not too many horse back riders. We crossed Gallows Tree Common, one of my favourite and more graphic place names - I've never figured out which is the tree.
Our destination was the Shillingford Bridge Hotel, an unusual hotel blessed with a very large car park and great lawn down to the banks of the river. Unfortunately a bit too cool for beers on the river bank but the bar proved most welcoming and the Sunday roast did not disappoint.
Thanks to Road Captains Les, Michael and Safety Officer Scotty for their stewardship and incident management that kept the ride together when we got well spread out - that's how it should work!
Cap'n Beakey - C&F Road Captain