Venice - European H.O.G. Rally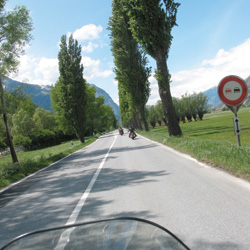 2nd-5th May 2002
H.O.G. Rally Report
Picked up the latest Hog News the other day and discovered I must have attended a different European Rally, been stuck in a time warp or rode in a parallel universe. The Lido de Cavalino that we rode to was chucking it down with rain virtually non stop. So where did all those sunny pictures come from?
There were Harleys everywhere of every colour size and description. It felt fantastic, this huge bond of bikers waving as chapter rides rumbled past from all over Europe.
But it was constantly raining. Never saw so many parked bikes in my life. All thoughts of roaring up and down the Lido to the ferry and hopping over to Venice went. What we saw was groups of weekend Harley warriors in meek queues at bus stops with umbrellas!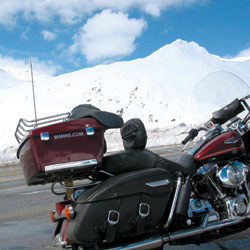 We found two great stretches of riding in France. One out of Auxerre South to Corbigny, through Chateau Chinon to Autun and on to Chalon Sur Saone. (Page 54 of the European Touring Handbook). Lovely riding through sweeping bends along the river and through the hills. Really good ride.
The other was on the way back. We had overnighted in a fantastic old town called Besancon, which has a huge medieval citadel overlooking the whole valley. Leaving there and heading for Rheims we found one of the best riding stretches of the whole trip. From Lure to Neufchateau, Ligny en Barois to Bar le Duc and then to Rheims. Fantastic riding. Two lane blacktop through forests and farmlands with nice twisties, long straights and switchbacks, great views and no traffic. Bliss on wheels.
High points of the trip were;
Parking our bikes in the conference room of a Chateau in Grenoble on carpet - this is what they meant by secure covered parking!
Hitting a swarm of bees at 70 mph near Neufchateau - total carnage on the wind screens.
One of the marshals at registration spotting our patches. "Chelsea & Fulham?!", he asked in mock astonishment, "are you guys lost?"
Craig Jones getting a Dyna to wheelie in the stunt show in the pouring rain.
We went seeking adventure - we found it but we found much much more. A lasting and enduring friendship, an almost symbiotic understanding and the knowledge that we must do this again and again and again. See you in Spain next year.
Conor McAnally - C&F Assistant Director