Hoggin the Bridge V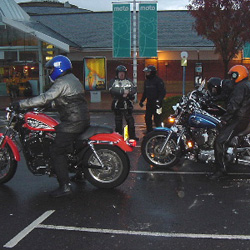 18th October 2004
'Gooood morning Meridian Chapter it's 0400... What does the '0' stand for - Oh my god it's early!!' Sunday morning and Hoggin' the bridge is calling. The big question was - would anyone really prefer the longer and more leisurely option from Kent or smile and 'turn over'!
05.15 Just as I pulled in to 'The Oakdene' Dave Mollison arrived on his trusty steed - ah! I am not alone - but then he was 'Last Man' so it was a little less easy for him to go back to sleep - actually it was a bit difficult to tell if he was really awake!
We chatted and mused enthusiastically about the day ahead, at the same time speculating on the numbers of riders likely to turn up. We were quickly reassured by the familiar rumbling of a Harley ridden by Alex Gaskill from Warr's quickly followed by the arrival of a rather damp Peter Richardson and Steve Hush.
At 05.45 the first siblings of the newly formed and approved 'Meridian Chapter' pulled off into the darkness with the rain just starting and headed west onto the motorway towards our next pick-up at junction 8 (M25), by now the rain was really setting in. Andrew Papas arrived in time for an 06.30 departure - no one else joined at this point - but hey it's worth stopping off just to see Andrew's cheery smile and listen to his wit! - next stop Reading services.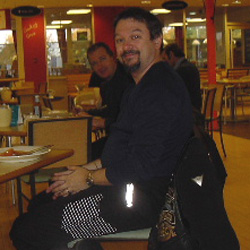 Upon arrival at Reading (07.30) we were met by 3 more C&F riders along with 2 Surrey members. After a comfort break which included a rather welcome cup of coffee and some much needed fuel for the smaller tanks, we set of again - the lure of a 'Monster breakfast' drawing us like a magnet west on the M4 to Leigh Delamere services.
09.10 Leigh Delamere - all 12 riders arrived with one thing in mind FOOD! lots of it. By this time the service area was busy with other Chapters coming and going - including one guy wearing a Kilt!! - brave lad who had obviously had his porridge for breakfast!
At 10.00 just as we were wallowing out to our bikes having been well fed, the contingent from Chelsea & Fulham H.O.G. arrived ready to regroup and head for Aust services - about 20 in all.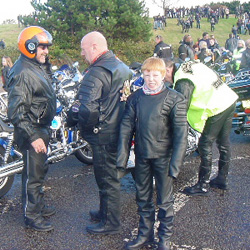 10.15 Peter 'Scottie' Scott took the lead into Aust and we arrived at around 10.40 to the most awesome sight - bikes and more to the point thousands of them mainly Harleys all packed, stacked and ready to roll.
It was a pretty amazing sight as we rolled out onto the bridge - you could probably count the standard silencers on one hand - I am sure I noticed the bridge vibrate! It took around a hour for all the riders to get out on the road easing over the Severn waters sounding like a massive heard of hoofed animals on a migratory route through a narrow pass! By this time the rain had stopped and the sun came out - not for long though!
The run was great and we were greeted along the route by people waving from bridges and the roadside, with riders acknowledging as they passed. The run eventually terminated in Bristol - a real rugby scrum - having fought our way in - the decision was taken to collect T-shirts, pins and escape whilst we could, a good idea they were still pouring in when we left!
After our regroup at Leigh Delamere services 10 of us headed back towards London and the M25. By the time we reached Clackett Lane services Dave Mollison and Peter Richardson pulled of for another coffee and bum break leaving Steve Hush and myself to continue - and the rain started again!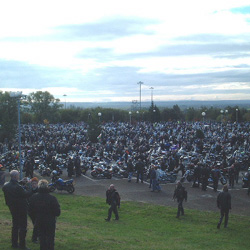 Journey's end 13 hours in the saddle and 387 miles on, it was a long and enjoyable day - certainly a successful 'inaugural run' for Meridian. As I climbed off the bike I was grateful for my 'Grand Piano' and all the comfort and protection it provides on longer runs.
To Conclude, Hoggin' the bridge was great but so too was the run, hanging out and general 'camaraderie' - no hitches or problems. Clearly there were many thousands more riders than had registered - which is a shame as Bridgewater and Somerset have been deprived of more much needed cash for this well run charity event, would I do it again, YUP!
Dave Mann - Meridian Road Captain