Brighton Bash
15th October 2006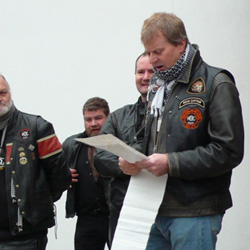 I thought it appropriate this year to lead a ride to Brighton taking the traditional London to Brighton cycle route. I had done the route many times in training and as a test did it the day before in 3 hours 13 minutes. Thus on a beautifully mild October day 46 bikes and about 50 riders set out from Warr's.
Charlie Pearch delivers his safety brief
After an unremarkable hour we reached Caterham and climbed the North Downs reaching the highest point of the ride at 758ft above sea level. We were free with nothing but small lanes, villages, windmills, and open road ahead of us. The road swept through the villages of Outwood, Smallfield and through numerous glades of trees with the sunlight slanting through them onto the road. About half way we stopped at the Crown at Turners Hill for an infusion of 'dopage'.
After Ardingly and Lindfield we turned into Slugwash Lane. The 6 miles to Wivelsfield and Ditchling were a joy and brought a broad grin to the face but soon we saw the Ditchling Beacon escarpment. It has filled many a cyclist with fear; the climb rises from 194 to 751 feet over 1.6 miles, it is though a pimple on the face of the Alps! We opened the throttle and leant into its curves, before arriving into Brighton. There we parked on the sea front and enjoyed a bowl of pasta in bright sunshine overlooking the sea at Alfresco's. I smiled when Dave Phillips told me that it had taken us 3 hours 4 minutes. I wanted to say to him "on yer bike!", but I guess that was what he was telling me... but which one?
Charlie Pearch - C&F Road Captain