Remembrance Day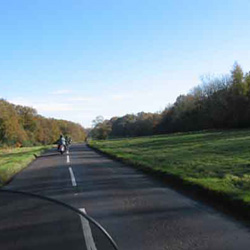 14th November 2004
Was this the best 100 miles of the riding season? Having been the victim of some truly olympic weather on the various Chapter and H.O.G. UK rides, both here and abroad, Sunday 14th November was just about the perfect late autumn day. Brilliant blue skies, late autumn colour in the leaves, a low but still warming sun. It certainly was cold, but we knew that there would be a roaring log-fire welcome at the Barley Mow in Tilford, our destination. Both chapters were represented, along with Andy Reynolds and Les Channing from Warr's, in the 14 brave souls on 13 bikes who arrived for the briefing and coffee.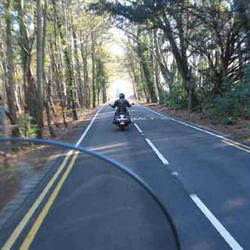 We set off along an admittedly unrecconoitred but very familiar route just after 10am, stopping briefly at 11am to observe a minute's silence (on the hard shoulder of the A3) before diving off onto the Surrey lanes for about 25 miles of bend swinging bliss. The lack of reconnaisance was more than compensated for by ride leader Peter 'Scottie' Scott's intimate knowledge of these roads. I had the easiest 'last man' job of the year, with everyone managing the drop-offs and pick-ups with aplomb. A long loop saw us travelling via Dorking and Holmbury St. Mary, then south of Guildford before arriving in Tilford. We laid a wreath at the War Memorial and then had lunch in the Barley Mow before traipsing back to town.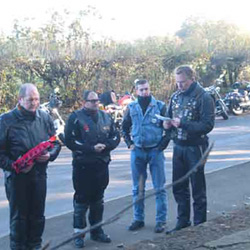 The ride back was a touch more spirited, with Russell on his black Sportster keeping me company until the A25 Newlands Corner turn off. I must confess having finally discovered what touches down on left handers 'somewhere near Boxhill' - it's the bottom of the nearside pillion footrest bracket, somewhat disconcerting as it is very solid and does not fold up.
Laying our wreath at Tilford
Next ride out is December 12th, for breakfast at Smithfield market. Hope to see plenty of you there. Will we be lucky with the weather two rides running? Only time will tell.
Michael Howers - C&F Road Captain